Jonathan Peters Presents Tribal Seas Boat Party NYC
| | |
| --- | --- |
| When: | Saturday, September 7, 2019 9:00pm |
| Where: | Hornblower - Pier 40, 353 West Street, New York, NY 10014 |
| What: | Boat Party |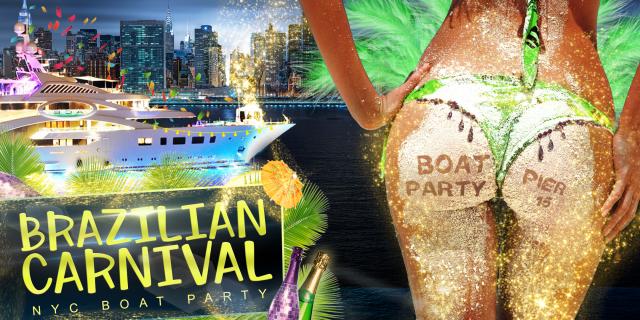 Celebrate Brazilian Independence Day on the Yacht Cruise around New York City!
About this Event
New York's own Super Star Jonathan Peters is bringing the Sound Factory Vibes back on the Manhattan waters on a Saturday Night!
Catch a VIBE on the iBoatNYC - Summer Concert Cruise Series with Hornblower New York featured on: Dancing Astronaut, EDM.com, Electric Vibes, The Nocturnal Times, Real EDM, MIX 247 EDM, Beat Feeds, The Groove Cartel
Open Air Deck - Main Stage (Concert):
Jonathan Peters
Middle Deck - Latin Floor:
Latin Music, Reggaeton, Latin Trap, Salsa, Bachata, Merengue, Classic & Rock Cross-Over Reggae Hip Hop Music w/ Special Performances by Local Up and coming Artists
Bottom Deck - The Lounge:
House / Deep House / Techno / Trance - Chill-Hang Out Lounge
YACHT DESCRIPTION
The Great Point
Are you trying to live your best life?
If the answer is YES, then buy a ticket to the Number 1 Boat in New York City.
Take a picture with a Statue of Liberty, Brooklyn Bridge and Freedom Tower while you're dancing your shoes off to your favorite DJs!
3 LEVELS OF MUSIC (Pop Music, Hip Hop, Latin Music, Oldies Hits & Dance Music w/ Special Guest DJs & Performers)
Huge INDOOR and OPEN- AIR Dance Floors
4 Bars with Cocktails, Beer & Wine
Breathtaking Manhattan Views - Take a picture with a Statue of Liberty, Brooklyn Bridge and the Freedom Tower
Food Available for Purchase
Best Prices in New York City
International DJs Every Weekend
3.5 hour Cruise around Manhattan with great DJs
Great for birthday / bachelorette / bachelor / anniversary / party reservation
VIP Ticket includes 1 FREE Drink + Express Line
VIP Bottle Service / Sections - Available for Sale. Call/text Allan (646) 263-4593 and/or email: for the Bottle Services Flyer / Packages
FREE Street Parking Available around the Pier (it is relatively easy to find parking)
Event Information:
Pier 40: 353 West Street, New York, NY 11038
Boards: 9:00 PM
Departs: 10:30 PM
Returns: 2:00 AM
Rain or Shine
21 & over with proper ID
DRESS CODE POLICY: Trendy but Comfortable / House Music Friendly
- Please be aware that photography and videotaping takes place on the boat. The photos & videos will be posted to our Facebook & Instagram pages:
www.facebook.com/crustnation
www.instagram.com/crustnation
Have a Celebration coming up?
We make it possible for you to host your company/corporate, art, fashion, music showcases, birthday parties & private dinners at a number of unique event spaces & a fleet of 6 yachts.
Booking your event with Crust Nation will get you more bang for your buck! Let us show you how New York parties!
For more information & to reach out to us visit crustnation.com
Want to get personal? call/text/email @ahmadvanallan
(646) 263-4593
About Jonathan Peters
Mention the name "Jonathan Peters" to any club-goer and most likely you will hear that he is without a doubt a DJ's DJ. Supplying hard-hitting body-rocking beats, Peters creates an auditory roller coaster in which the crowd enthusiastically jumps on, throws their hands in the air, and enjoys the ride. In addition to DJing and being a founder of Deeper Rekords NYC, Peters also produces, remixes and makes guest appearances around the world.
For over a decade Peters has been synonymous with house music in New York City. He began his career in 1988 when he landed his first gig spinning weeknights at Café Iguana. Over next three years, Iguana was the place to be witnessing young DJs star on the rise. In 1991, he moved to Café Society, as did his growing numbers of fans, and then to Le Bar Bat a year later.