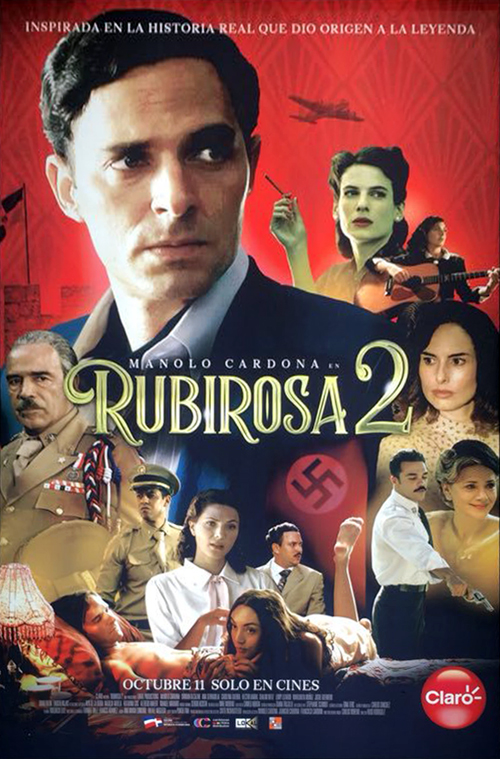 RUBIROSA 2
The Dominican Film Festival in NYC
| | |
| --- | --- |
| When: | Thursday, July 25, 2019 6:00pm |
| Where: | Cinépolis Chelsea, 260 W 23rd St, New York, NY 10011 |
| What: | Movie |
RUBIROSA 2
INTERNATIONAL PREMIERE

Carlos Moreno, Hugo Rodriguez | Dominican Republic | Drama, Historical | 2018 | 100' | In Spanish with English Subtitles
A film that shows the misadventures of the famous Dominican playboy Porfirio Rubirosa, who was also speculated on as a spy of the dictator Rafael Leónidas Trujillo Molina and thanks to his great charisma and talent to conquer people and in particular women, he emerged as a man of the world and with many contacts, with such a great fame it is believed his life inspired the creation of the character James Bond. Rubirosa who was a military and sportsman, came to be at the top of the international "jet set" thanks to his seductive skills. Rubirosa was linked romantically to Dolores del Río, Eartha Kitt, Marilyn Monroe, Ava Gardner, Rita Hayworth, Dorothy Dandridge, Lupe Velez, Soraya Esfandiary, Peggy Hopkins Joyce, Joan Crawford, Veronica Lake, Kim Novak, Judy Garland, and Eva Peron. He dallied with his ex-wife Flor de Oro Trujillo Ledesma during his marriage to Doris Duke. He and Zsa Zsa Gabor were seen together during her marriage to George Sanders. When she wouldn't marry him, despite the fact that George was divorcing her, Rubirosa married Barbara Hutton. He was named a co-respondent in George Sanders' divorce suit from Gabor.
Película que muestra las desventuras del famoso playboy dominicano Porfirio Rubirosa, quien también se especulaba era espía del dictador Rafael Leónidas Trujillo Molina y gracias a su gran carisma y dotes para conquistar a las personas y en particular a las mujeres, se perfiló como un hombre de mundo y con muchos contactos, con una fama tan grande que se piensa su vida inspiró la creación del personaje James Bond. Rubirosa quien fuera un militar y deportista, llegó a situarse en lo más alto del "jet set" internacional gracias a sus dotes de seductor. Rubirosa estaba vinculada románticamente con Dolores del Río, Eartha Kitt, Marilyn Monroe, Ava Gardner, Rita Hayworth, Dorothy Dandridge, Lupe Vélez, Soraya Esfandiary-Bakhtiary, Peggy Hopkins Joyce, Joan Crawford, Veronica Lake, Kim Novak, Judy Garland y Eva Perón. Se relacionó con su ex esposa Flor de Oro Trujillo Ledesma durante su matrimonio con Doris Duke. Él y Zsa Zsa Gabor fueron vistos juntos durante su matrimonio con George Sanders. Cuando ella no se casaría con él, a pesar de que George se estaba divorciando, Rubirosa se casó con Barbara Hutton. Fue nombrado co-demandado en la demanda de divorcio de George Sanders de Gabor.
Director / Director:
Carlos Moreno, Hugo Rodriguez
Country / País:
Domincan Republic
Producer / Productor:
Sixto Inchaustegui, Francisco Cardona, Juancho Cardona, Manolo Cardona
Screenwriter / Guión:
Ana María Londoño, Rafael Noguera
Director of Photography / Director de Fotografía:
Francis Adamez y Frankie Baez
Editor / Editor:
Isaac Verdugo
Genre / Género:
Drama, Historical
Cast / Intérpretes:
Damián Alcázar, Héctor Aníbal, Manolo Cardona, Katarina Cas, Richarson Díaz, Emerson Gonzalez, Carolina Guerra, Josue Guerrero, Stephany Liriano, Lumi Lizardo, Miguel Ángel Martínez, Gerardo Mercedes, Shalim Ortiz, Omar Patin, Omar Ramirez, Phillip Rodríguez, Ana Serradilla, Hector Then, Natalia Varela, Doug Walker, Horst Wenz
Language / Idioma:
Spanish with English subtitles
Year / Año:
2018
Running Time / Duración:
102'
Director's Biography:
Carlos Moreno ("El Cartel de los Sapos."). ,(" Dog Eat Dog") and many TV Series
Hugo Rodriguez ("Nicotina," "La Hermandad") and Carlos Moreno ("Dog Eat Dog") co-direct the films which feature a pan-Latin cast that includes Damian Alcazar ("Narcos") Ana Serradilla ("La Viuda Negra"), Jorge Perugorria ("Viva") and Carolina Guerra ("Animal Kingdom").