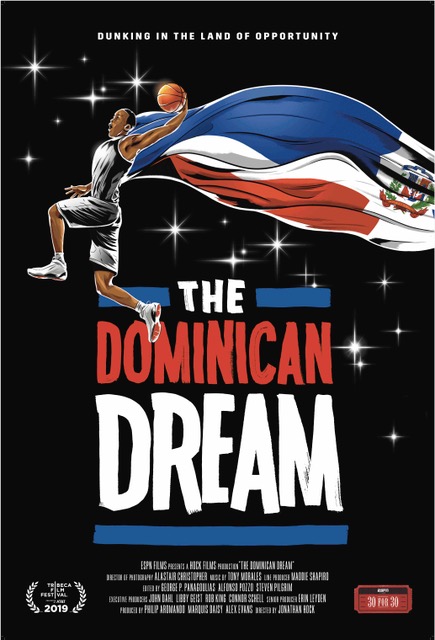 THE DOMINICAN DREAM
The Dominican Film Festival in NYC
| | |
| --- | --- |
| When: | Sunday, July 28, 2019 5:00pm |
| Where: | Cinépolis Chelsea, 260 W 23rd St and 8th Ave, New York, NY 10011 |
| What: | Movie |
THE DOMINICAN DREAM
Jonathan Hock | USA | Documentary | 2019 | 101
"The Dominican Dream" is a portrait of the Dominican immigrants of New York in the '80s and '90s, seen through a loving family whose youngest son, Felipe Lopez, became the top ranked high school basketball player in the nation and was hailed as "The Dominican Michael Jordan'. Embraced as an immigrant hero, then cast aside as an American failure, Felipe Lopez would eventually find happiness not as a basketball player, but as the man he was always meant to be.
Director / Director:
Jonathan Hock
Country / País:
USA
Producer / Productor:
Philip Aromando, Alex Evans
Screenwriter / Guión:
Director of Photography / Director de Fotografía:
Alastair Christopher
Editor / Editor:
Peter Panagoulias, Alfonso Pozzo, Steven Pilgrim
Genre / Género:
Documentary, Sport
Cast / Intérpretes:
Felipe Lopez, Alex Rodriguez
Language / Idioma:
Englsih and Spanish with English subtitles
Year / Año:
2019
Running Time / Duración:
101'
Director biography
Jonathan Hock is an 11-time Emmy Award®-winning producer, director, writer, and editor. His first documentary feature, Through the Fire, had its world premiere at Tribeca in 2005, and his later films The Lost Son of Havana (2009) and Off the Rez (2011) also premiered here. The Dominican Dream is Hock's sixth documentary for ESPN's Emmy Award®- and Peabody Award-winning "30 For 30" series.