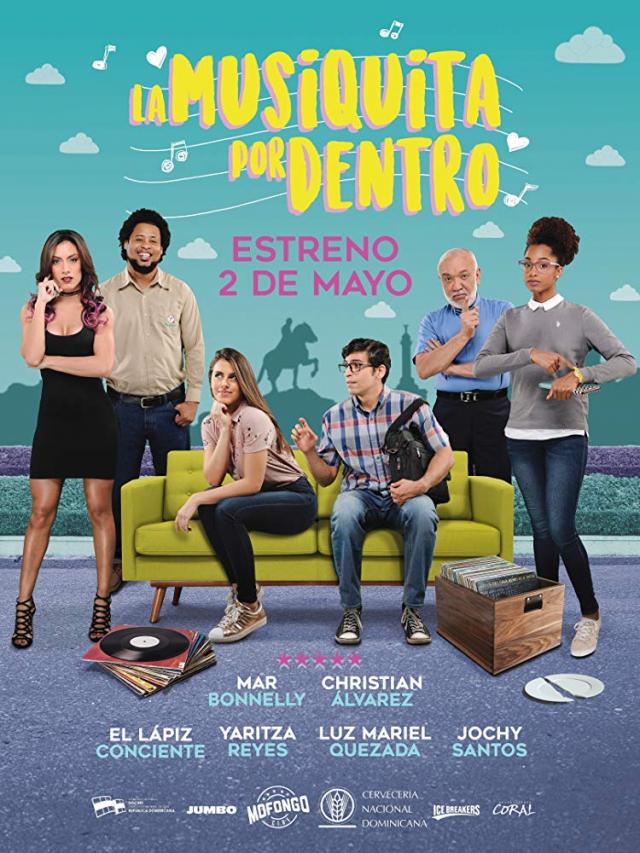 LA MUSIQUITA POR DENTRO - SPOTLIGHT
The Dominican Film Festival in NYC
| | |
| --- | --- |
| When: | Sunday, July 28, 2019 7:00pm |
| Where: | Cinépolis Chelsea, 260 W 23rd St and 8th Ave, New York, NY 10011 |
| What: | Movie |
LA MUSIQUITA POR DENTRO
INTERNATIONAL PREMIERE

Ernesto Alemany | Dominican Republic, Spain | Comedy, Romance | 2018 | 99' | Spanish with English Subtitles
"La Musiquita por Dentro" tells the story of Ariel, a reserved and timid young man who falls in love with Mar, his companion of internship at a large company. After a beautiful friendship that eventually grows into a sentimental relationship, Vanessa appears, producing between them a conflict that seems irreconcilable. In his innocence, Ariel does not know how to approach her, but as part of his training in the company, he meets Raymond "Bujía" who starts him in the arts of conquest and gives him the tools to overcome his shyness. The outcome becomes an epic episode in which he definitely leaves behind his insecurities to show Mar the love he feels for her.
"La musiquita por dentro" cuenta la historia de Ariel, un joven reservado y tímido que se enamora de Mar, su compañera de pasantía en una gran empresa. Luego de una linda amistad que con el tiempo deviene en otros sentimientos, aparece Vanessa, produciendo entre ellos un conflicto que parece irreconciliable. En su inocencia, Ariel no sabe cómo abordarla, pero como parte de su entrenamiento en la empresa conoce a Raymond "Bujía" quien Io inicia en las artes de la conquista y le da las herramientas para superar su timidez. El desenlace se convierte en un episodio épico en el que definitivamente deja atrás sus inseguridades para demostrarle a Mar el amor que siente por ella.
VIEW TRAILER: https://www.youtube.com/watch?time_continue=5&v=yH1f0qTe4tU

Director / Director:
Ernesto Alemany
Country / País:
Dominican Republic
Producer / Productor:
Sarah Perez Baez
Screenwriter / Guión:
Ernesto Alemany
Director of Photography / Director de Fotografía:
Charlie Giner
Editor / Editor:
Genre / Género:
Comedia – Romance
Cast / Intérpretes:
Cristian Álvarez, Yaritza Reyes, Mariel Quezada, El Lápiz Conciente, Pachy Méndez, Karla Hatton, Gabriel Music y Jochy Santos.
Language / Idioma:
Spanish with English subtitles
Year / Año:
2019
Running Time / Duración:
98'

Director's Biography:
Ernesto Alemany inicia en el mundo laboral como productor en la agencia de publicidad Interamérica/Lowe en el año 1992. En el 1994 pasa a dirigir el departamento de producción de la agencia Cazar/DDB. En 1997 crea la empresa GAIA Cinematografia+video orientándola al mercado de la publicidad y vídeos musicales, ganándose rápidamente un buen espacio en ese rubro, realizando proyectos para las principales marcas del mercado dominicano, lo que desde entonces le ha merecido múltiples reconocimientos nacionales e internacionales. En diciembre de 2013 co-produce y dirige su primer largometraje de ficción, "La Gunguna", luego dirige a través de la empresa productora Mofongo Cine. "Loki 7/ el Perro de la Siberia". su segundo largometraje. "La musiquita por dentro" es su tercer largometraje.