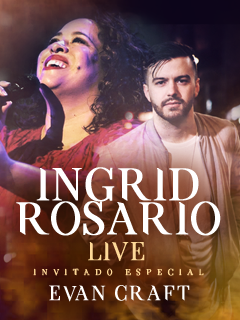 Ingrid Rosario Live
con Invitado Especial Evan Craft
| | |
| --- | --- |
| When: | Friday, September 15, 2017, 8:00pm |
| Where: | Christian Life Center, 3100 Galloway Rd., Bensalem, PA 19020 |
| What: | Worship Night |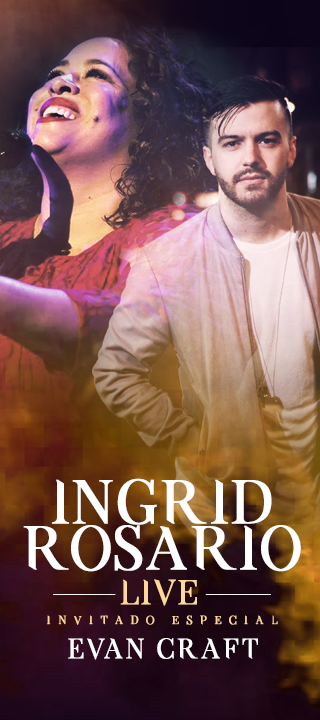 Ingrid Rosario Live - Con su banda en vivo!
Con Invitado Especial - Evan Craft!
Ingrid Rosario y Evan Craft son dos de los más aclamados salmistas de la música sacra. ¡Además de su inmenso talento en el canto, es su genuino interés que la audiencia experimente la presencia de Dios que garantiza que esta noche no será un concierto más! Sera un momento en el cielo aquí en la tierra!
*Aproveche el Especial de SIX PACK.* Al comprar 5 boletos de entrada VIP o 5 boletos de entrada general, reciberas un boleto gratis!
Por la compra de Boletos VIP, se les proveerá un acollador "VIP", distinto Entrada VIP para un fácil acceso al auditorio, podras Conocer y Saludar a Ingrid Rosario y Evan Craft antes del inicio del concierto, una Camiseta de Concierto de edición limitada, Refrigerios y cuentas con la mejor ubicación en el auditorio (Sesión de VIP con refrigerios, conocer y saludar a Ingrid Rosario y Evan Craft será a las 6:00pm hasta las 7:00pm). El concierto se llevara a cabo en el Christian Life Center, 3100 Galloway Rd., Bensalem, PA 19020.
Las puertas se abrirán a las 7:00pm para el público en general. Estacionamiento es libre de costo. Niños de 4 años de edad en adelante requieren la compra de su propio boleto.
Para compra y más información de boletos llama al 1-212-567-9000. Para información acerca de ventas de grupos, patrocinios o como presentar sus productos como un vendedor en el concierto, debes llamar al 1-609-914-1361 o visitar al www.regalpromotions.net
________________________________________
Ingrid Rosario Live with Special Guest Evan Craft!
Ingrid Rosario and Evan Craft are two of the most acclaimed vocalists in Contemporary Christian Music. In addition to their immense vocal talent, it is their genuine interest for the audience to experience the presence of God that guarantees this night will not be just another concert! It will be a moment in heaven here on earth.
*Take Advantage of Our SIX PACK Special.* Receive one free ticket with the purchase of 5 VIP tickets or 5 general admission tickets.
With the purchase of VIP Tickets, you will be provided with a "VIP" lanyard, a seperate VIP Entrance for an easy access to the venue, you will gain access to the Meet and Greet session with Ingrid Rosario and Evan Craft before the concert, a limited edition Concert T-Shirt, Light Refreshments and the Best Seats in the house (VIP Meet & Greet session with Ingrid Rosario and Evan Craft will commence at 6:00pm until 7:00pm). The concert will be held at the Christian Life Center, 3100 Galloway Rd., Bensalem, PA 19020.
Doors will be open to the general public at 7:00pm. Free parking will be provided. Children 4 years old and over must purchase their own ticket.
To purchase and for more ticket information call 1-212-567-9000. For information on group sales, sponsorships and or concert vendor opportunities, please call 1-609-914-1361 or visit www.regalpromotions.net