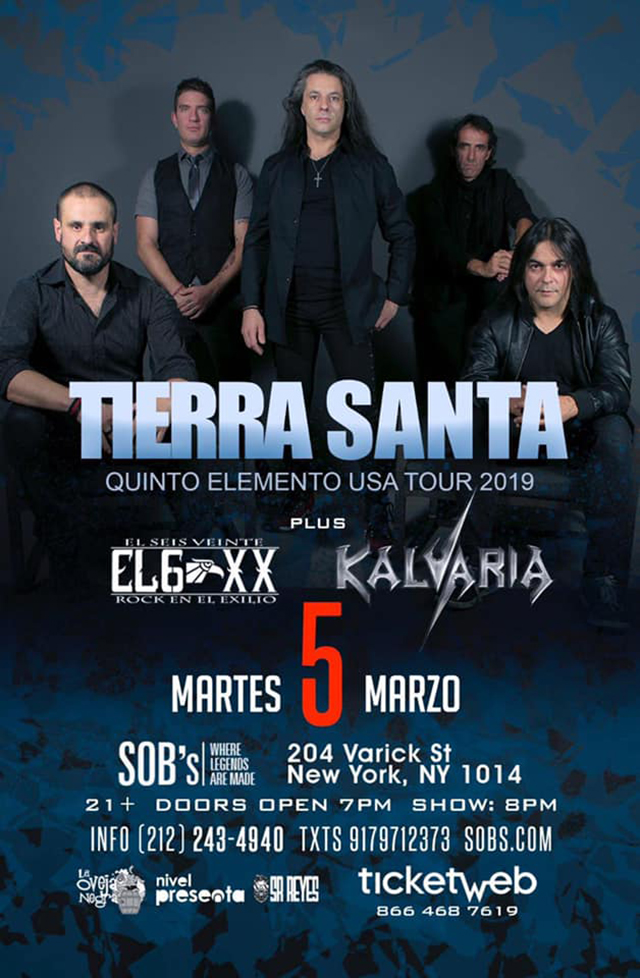 Tierra Santa + El Seis Veinte & Kalvaria
| | |
| --- | --- |
| When: | Tuesday, March 5, 2019 7:00pm |
| Where: | SOB's, 204 Varick St., New York, NY 10014 |
| What: | Concierto Bailable |
Year 1997; three young men plan to form a rock band. Ángel, Arturo and Roberto restructure what was the group in its beginnings and in a short time they manage to find two additional musicians to complete the combo. Tierra Santa is about to be born. Luckily or at the whim of fate they knock on the door of SOUND XXI (a studio in which all their recordings have been recorded as of today). Medieval, their first album, is on the way.
Tierras de Leyenda and Sangre de Reyes and numerous other studio and live recordings continue the saga and their respective live performance confirms them both inside and outside Spain as one of the most important Heavy and Hard Rock bands in Spanish of all time.
Now with their new cd Quinto Elemento currently released in 2017 they will be touring once again the US.
'Quinto Elemento' es el nuevo trabajo discográfico de Tierra Santa, un esperado álbum compuesto por diez canciones firmadas por Ángel San Juan que certifican el magnífico estado de forma de esta gran banda. Una obra espectacular cuyo arte gráfico anticipa un contenido musical que no atiende a engaños y cuyo valor principal es la búsqueda de nuevos horizontes sin alejarse del camino ya recorrido, reafirmando sus firmes y profundas raíces.
Do not miss Tierra Santa at the SOBS with Local opener Kalvaria and El6XX