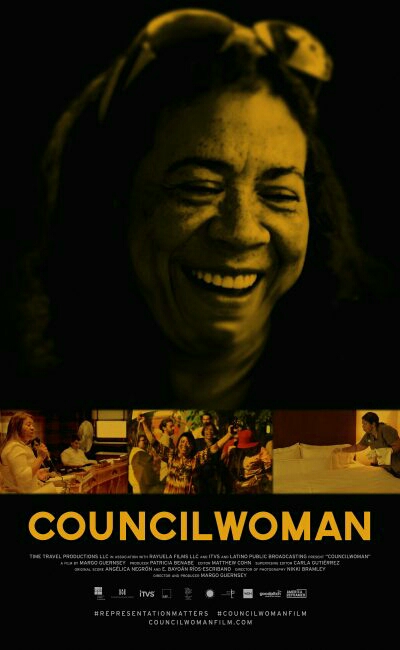 COUNCILWOMAN (La Concejal)
The Dominican Film Festival in NYC
| | |
| --- | --- |
| When: | Friday, July 26, 2019 2:00pm |
| Where: | Cinépolis Chelsea, 260 W 23rd St and 8th Ave New York, NY 10011 |
| What: | Movie |
COUNCILWOMAN (La Concejal)

Margo Guernsey | USA, Puerto Rico, Dominican Republic | Documentary | 2018 | 56' | English, Spanish with English subtitles
Carmen Castillo won a seat on the city council between shifts as a hotel housekeeper. Building a name for herself in local politics as she fought to unionize and, unsuccessfully, to raise the minimum hourly wage to $15 for all Providence, Rhode Island, hotel workers, Castillo infuriated her more corporate-minded constituents in Ward 9. Councilwoman tracks the story from her arrival in the U.S. from the Dominican Republic in the mid-1990s to her 2014 reelection bid, when she once again espouses a fiery progressive platform. And neither of her opponents proves shy about using her marginalized economic status and lack of formal higher education against her. Castillo battles personal setbacks and legacy notions of who is qualified to run for political office — all the while fiercely defending her vision of a society in which all people earn enough to support themselves and their families.
Carmen Castillo, dominicana de nacimiento, miembro de su sindicato, trabaja en el equipo de limpieza de un hotel en la ciudad de Providence, RI, dándole una voz a la lucha por los derechos de los trabajadores marginados. Se enfrenta a muchos retos: a personas que no creen que tiene la educación para gobernar, al poder de los intereses corporativos que se oponen a la lucha por un salario mínimo de $15/hora, y a su competencia para re-elección al puesto- todo esto mientras balancea su trabajo a tiempo completo limpiando cuartos de hotel y relaciones personales. Es una historia de la vida política tras la victoria.
VIEW TRAILER: https://vimeo.com/292374194
Director / Director:
Margo Guernsey
Country / País:
USA, Puerto Rico, Dominican Republic
Producer / Productor:
Patricia Benabe
Screenwriter / Guión:
Director of Photography / Director de Fotografía:
Nikki Bramley
Editor / Editor:
Matt Cohn
Genre / Género:
Documentary
Cast / Intérpretes:
Carmen Castillo
Language / Idioma:
English and Spanish with English subtitles
Year / Año:
2019
Running Time / Duración:
56''
Director's Biography:
Margo Guernsey's films document American stories where the protagonists work in challenging spaces toward a more equitable world, through her company Time Travel Productions LLC. Councilwoman is her first feature length documentary. She has two other projects in development including Pauli Murray: An American Life (w.t.), which has received NEH development funding. In between films, Margo directs and produces short films and promotional videos for non-profit organizations and small businesses. Over the past 20 years, Margo has worked as a union organizer, non-profit development director, Spanish/English translator and media instructor. She began her film career in 2010 as a producer at WPBT2 (Miami). She holds an MFA in Film (University of Miami), MA in History (Umass/Amherst), BA in History (Brown University), and is a Tribeca/Camden/CNNFilms Retreat Alumni
Margo Guernsey comenzó su carrera cinematográfica en el 2010 como productora en la WPBT2 (Miami). Fundó en el 2012 Time Travel Productions LLC, con el propósito de producir documentales. Councilwoman es su primer largometraje. Durante los pasados 20 años, Margo ha trabajado como organizadora sindical, como directora para 'non-profits', traductora español/inglés e instructora en el campo mediático, siempre desarrollando colaboraciones multi-raciales y entre clase, para estar informada y así desarrollar una sociedad más justa. Cuenta con un MFA en cinematografía de la Universidad de Miami, un MA en historia de Umass/Amherst, un grado en historia de la Universidad de Brown y es egresada del Tribeca/Camden/CNNFilms Retreat. Es bilingüe en las lenguas inglés y español y madre orgullosa de dos menores.