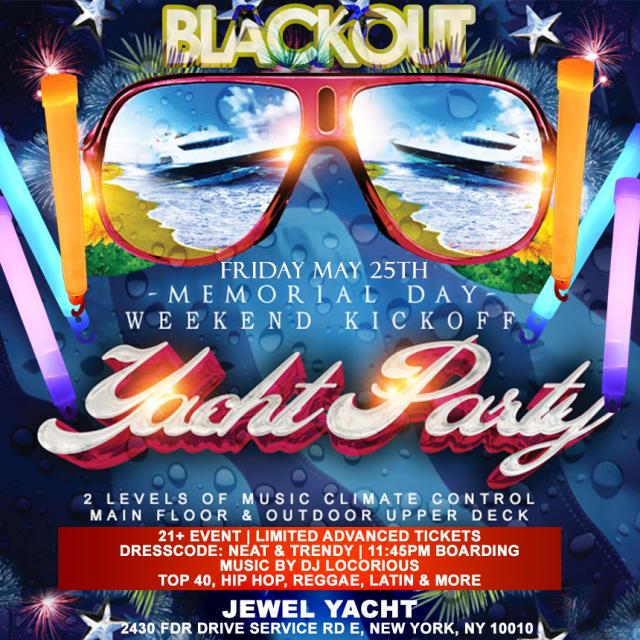 MEMORIAL DAY WEEKEND YACHT PARTY :: KICK OFF
| | |
| --- | --- |
| When: | Friday, May 25, 2018 11:00pm |
| Where: | JEWEL YACHT, 2430 FDR DRIVE SERVICE ROAD EAST |
| What: | Boat Party |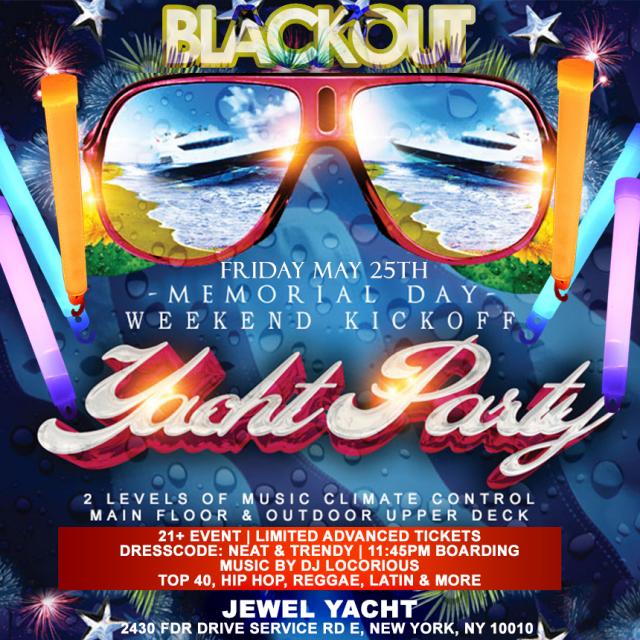 Get ready to party on the Hudson river on a Midnight Cruise.
kick off the Weekend with us aboard the
Jewel Yacht
Skyport marina
2430 FDR drive service road East
off E. 23rd Street
New York, NY 10010
Capacity is 320 people on 2 floors of Music and 2 Bars.
Outside Deck provides for scenic view of the city and the enjoyment of the summer air with a few cocktails and friends.
Dance, Laugh, and Mingle....
Find The Party inc is a sponsor of this event. All ticket sales are final. Any need to refund should be due to emergencies only.
for more information you can contact the vendor 917-674-1585
Ticket prices:
$25 Early bird. 1st 100 tickets
$30 for the 2nd 100 tickets
$40 for last 120 participants and last call....Means you waited to long.
www.findtheparty.info to buy tickets now.
Johnny Cash 917-674-1585
see what the boat looks like here::::
https://www.youtube.com/watch?v=Ynz-CW08FnM