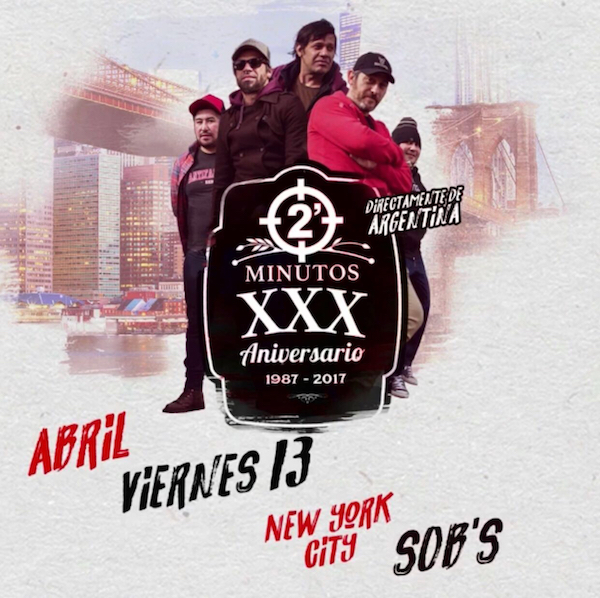 2 Minutos "30 Aniversario" USA Tour
| | |
| --- | --- |
| When: | Friday, April 13, 2018 11:30pm |
| Where: | |
Formed in 1987 in Buenos Aires, Argentina in the middle of the Argentine economic crisis, 2 minutes began as a group of 4 members: Walter "Mosca" Velázquez on vocals, Indio on guitars, Alejandro "Papa" Ainadjian on bass, and Marcelo Ares on drums.
Their debut album Valentín Alsina, named after their hometown, was released in 1994. This album included the hit song "Ya No Sos," which had been previously recorded for an independent compilation of punk rock and hardcore bands called Invasion 88. Valentin Alsina sold 50,000 copies and earned the band the title of "breakout band of the year" for the SI Supplement from Clarín(Argentine newspaper).
2 minutes began to make noise that same year when, along with Attaque 77, they performed as the opening bands for Motörhead and Ramones in the Vélez Sarfield Stadium in front of 45,000 people. They later became the first Argentine punk rock band to play in the legendary CBGB in New York City.