Tuscany and Rome Sightseeing Trip
Friday, October 7, 2022 7:00pm
John F. Kennedy International Airport
Queens, NY 11430
Nestled along the Mediterranean shores, Italy is a country which has made a powerful impact on Western Civilization. ABT will partner with TAO Travel for this Italian sightseeing tour.
This seven days tour will begin in Rome "the eternal city" and accompany you to discover the jewels of the most beautiful cities Tuscany, Florence, Pisa, Lucca, Pistolia, and Prato.
Here are highlights of the trip.
Rome - Ill Collesseo, Vatican City, Il Pantheon, Fontana di Trevi, Piazza Navona, Michangelo's Sistine Chapel, St. Peter's Basilica
Florence - Il Duomo, Santa Maria Novella, Basilica di Santa Croce
Pistoia - Roman town
Pissa Lucca - City known for 100 churches
Pisa - Leaning Tower of Pisa
Travel package includes the following
Six nights hotel accommodations
Six breakfast
Six dinners
Ground transportation
Bilingual guide in Italian and in English
All sightseeing activities
Roundtrip transfers to and from airport
Roundtrip airfare from New York City
Note: Airfare departs from New York City. Price is subject to change based on availability
This tour is operating at full capacity. Travelers must show proof of Covid-19 vaccines and booster shots.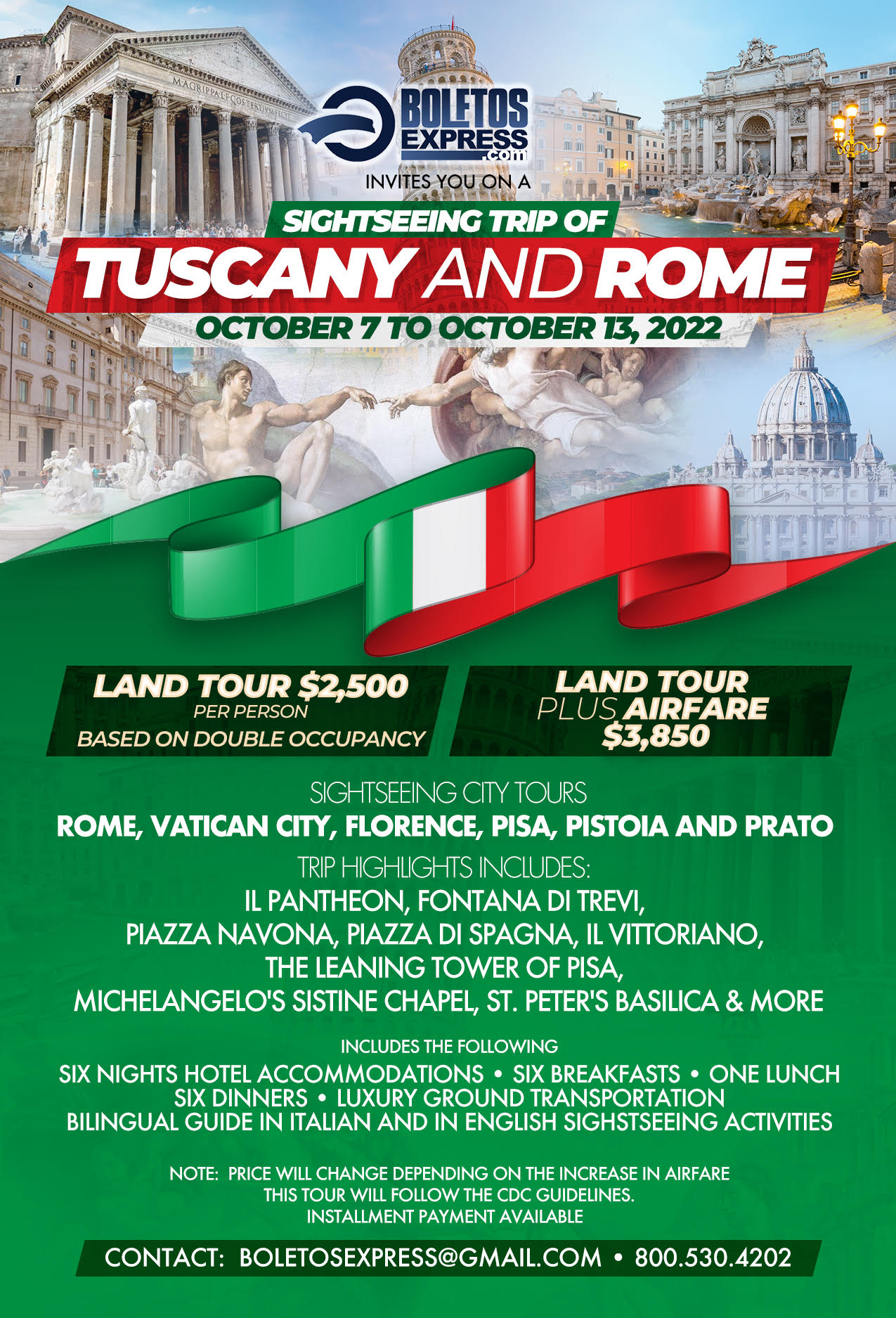 Join our Exclusive VIP List & Text Message Alerts
Receive free event alerts and get discounts on your favorite events.