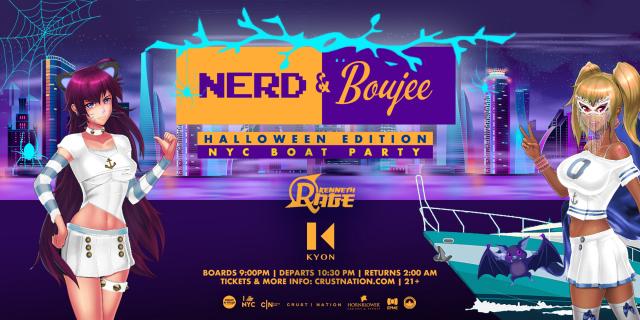 Nerd & Boujee NYC Boat Party Yacht Cruise Halloween Friday
Yeras
| | |
| --- | --- |
| When: | Friday, October 25, 2019 9:00pm |
| Where: | Hornblower - Pier 15, 78 South Street |
| What: | Boat Party |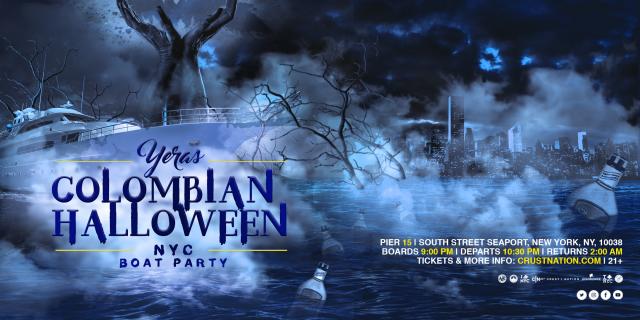 IT'S NERD & BOUJEE NYC!!!
Celebrate Halloween weekend and break out your sexiest outfits as we party ALL NIGHT LONG!
Dress to impress with your best costumes so you can dance and drink at our signature Halloween event!
Catch a VIBE on the iBoatNYC - Cruise Concert Series with Hornblower New York featured on: DancingAstronaut.com, EDM.com, ElectricVibes.com, TheNocturnalTimes.com, Realedm.com, Mix247EDM.com, Beatfeeds.com & TheGrooveCartel.com
Open Air Deck - Main Stage (Concert):
International DJ Line up
Middle Deck - Latin Floor:
Latin Music, Reggaeton, Latin Trap, Salsa, Bachata, Merengue, Classic & Rock Cross-Over Reggae Hip Hop Music w/ Special Performances by Local Up and coming Artists.
Bottom Deck - The Lounge:
House / Deep House / Techno / Trance - Chill-Hang Out Lounge
The Boat:
Three Concerts, all in one Boat Party (Three dance floors, three levels of music). 10+ DJs & Live performers
Every Floor has VIP table sections. If you purchase a VIP Table Section, you don't have to stay at your table the whole night. The waitress can put your bottles away, place a rope in front of your table & make sure no one sits at your table. When you decide to return to your table, the waitress will bring out your bottles. Your table is guaranteed for the ENTIRE night.
Every Floor has a cocktail bar that also serves beer & wine. Specials on Buckets of Beers.
TWO VIP Gardens.- Artist (Back Stage) VIP Garden & Regular VIP Garden
Food Available for Purchase - Yes we have specialty Food Vendors! - Dinner Reservations Available.
Yes Parking is Available at the Pier - Pier 40: $40.00 - Pier 15: $30.00 (one block away). FREE Street Parking Available around the Pier (it is relatively easy to find parking)
VIP Bottle Service / Sections - Available for Sale. Call/text Allan (646)-263-4593 and/or email: for the Bottle Services Flyer / Packages.
Special Birthday/Bachelor/Bachelorette Packages available.
Contact us for dinner/party reservations (Balloons & Cakes permitted - bring your own utensils - no knifes allowed; no other outside food allowed).
LED screens, VIP Gardens, and state-of-the-art lighting and sound systems - they make our boat cruise the perfect place to party on the harbor with some of the best artists in the world.
VIP Tickets include Express Line and 1 FREE Drink of your choice! Also includes access to the VIP Garden.
Free Merch Giveaways
Event Information:
Pier 15: 78 South Street (South Street Seaport), New York, NY 10038
Boards: 9:00 PM
Departs: 10:30 PM
Returns: 2:00 AM
Rain or Shine
21 & over with proper ID
DRESS CODE POLICY: HALLOWEEN COSTUMES ENCOURAGED
- Please be aware that photography and videotaping takes place on the boat. The photos & videos will be posted to our Facebook & Instagram pages:
www.facebook.com/crustnation
www.instagram.com/crustnation
Have a Celebration coming up?
We make it possible for you to host your company/corporate, art, fashion, music showcases, birthday parties & private dinners at a number of unique event spaces & a fleet of 6 yachts.
Booking your event with Crust Nation will get you more bang for your buck! Let us show you how New York parties!
For more information & to reach out to us visit crustnation.com
Want to get personal? call/text/email @ahmadvanallan
(646) 263-4593