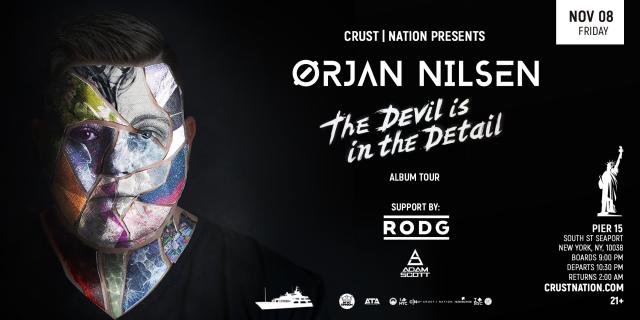 Trance Music Boat Party Yacht Cruise NYC: ORJAN NILSEN
| | |
| --- | --- |
| When: | Friday, November 8, 2019 9:00pm |
| Where: | Hornblower - Pier 15, 78 South Street |
| What: | Boat Party |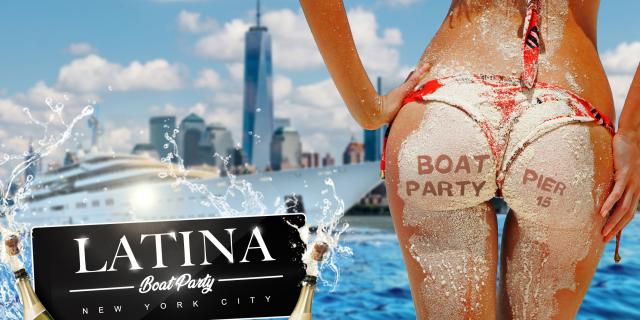 **This event has been rescheduled to 11/9/19 @ 8:00 pm**
If you would like to purchase tickets, go here: https://www.boletosexpress.com/boat-party/55420/
Orjan Nilsen makes a NYC stop during his Album Tour: THE DEVIL IS IN THE DETAIL joined by RODG.
About this Event
Join us for Fall Festivities with 2 INDOOR Levels of Music on the Hudson!
Line up:
ORJAN NILSEN
RODG
ADAM SCOTT
YACHT DESCRIPTION:
Are you trying to live your best life?
If the answer is YES, then buy a ticket to the Number 1 Boat in New York City with Indoor Dance floors!
Take a picture with a Statue of Liberty, Brooklyn Bridge and Freedom Tower while you're dancing your shoes off to your favorite DJs!
2 LEVELS OF MUSIC (Pop Music, Hip Hop, Latin Music, Oldies Hits & Dance Music w/ Special Guest DJs & Performers)
Huge INDOOR and OPEN- AIR Dance Floors
3 Bars with Cocktails, Beer & Wine
Breathtaking Manhattan Views - Take a picture with a Statue of Liberty, Brooklyn Bridge and the Freedom Tower
Food Available for Purchase
Best Prices in New York City
International DJs Every Weekend
3.5 hour Cruise around Manhattan with great DJs
Great for birthday / bachelorette / bachelor / anniversary / party reservation
Contact us for dinner/party reservations (Balloons & Cakes permitted - bring your own utensils - no knifes allowed; no other outside food allowed).
VIP Ticket includes 1 FREE Drink + Express Line
VIP Bottle Service / Sections - Available for Sale. Call/text Allan (646) 263-4593 and/or email: for the Bottle Services Flyer / Packages
FREE Street Parking Available around the Pier (it is relatively easy to find parking)
Event Information:
Boarding: 9:00 PM
Departure: 10:00 PM
Return: 1:30 AM
Rain or Shine
21 & over with proper ID
Have a Celebration coming up?
We make it possible for you to host your company/corporate, art, fashion, music showcases, birthday parties & private dinners at a number of unique event spaces & a fleet of 6 yachts.
Booking your event with Crust Nation will get you more bang for your buck! Let us show you how New York parties!
For more information & to reach out to us visit crustnation.com
Want to get personal? call/text/email @ahmadvanallan
(646) 263-4593
About Artists:
Orjan Nilsen
Dedicated, hardworking, and energetic – three words that is probably the best attempt to briefly describe what theNorwegian hot-shot Ørjan Nilsen is about. In the last few years he has been wow'ing audiences across the planet with his take on what a 21st century DJ and producer should be about.Born in 1982 in the Norwegian town of Kirkenes, Ørjan has had very little doubt about what he wanted to do with his life,having listened to countless CD compilations, and seeing some of the legends DJing, Ørjan knew that the DJ booth would be his domain one day. Ørjans work with the dutch label Armada Music started with the track "Red Woods" released in 2006 under his DJGovernor alias, and over the years Ørjan found his groove,flashing samples of his huge potential, with "La Guitarra"(2008), Lovers Lane and So Long Radio (2010).
Ørjan went on to release his first artist album in 2011 titled "In MyOpinion" which stormed up sales charts and catapulted Ørjan onto the watch-list of every EDM-fan around.Even though "In My Opinion" was very successful, Ørjans howed no intention of slowing down, quickly releasing mammoth tracks like "Viking", "Atchoo" (2011) and opening2012 in collaboration with Armin van Buuren and the aptly titled "Belter" followed by his own "Amsterdam" and"Endymion" before finishing out the year with club destroyers "Copperfield" and "Filthy Fandango".As a DJ Ørjan Nilsen quickly established himself with a ninfectious blend of all things chunky and groovy, his energy and presence behind the decks has taken him around the world playing at some of the world's finest clubs and biggest festivals, from Sao Paulo to Sydney and many places in between.It has been a remarkable journey which resulted in recognition from industry heavyweights.One thing is certain, there is no stopping this Norwegian prodigy, as he is on a mission, be it in the studio or in the DJ booth, Ørjan Nilsen is determined to surprise, amaze and entertain, and you would not want to miss out.