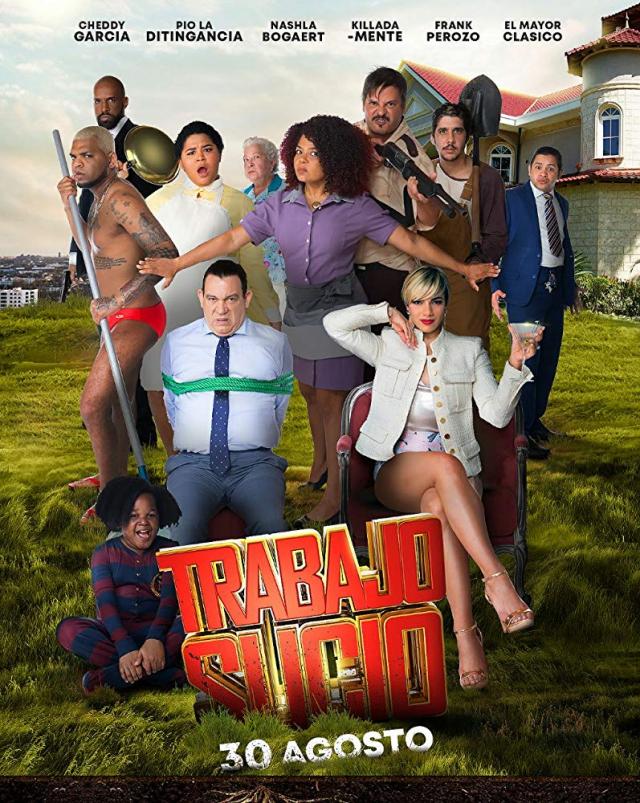 TRABAJO SUCIO
The Dominican Film Festival in NYC
| | |
| --- | --- |
| When: | Wednesday, July 24, 2019 2:00pm |
| Where: | Cinépolis Chelsea, 260 W 23rd St, New York, NY 10011 |
| What: | Movie |
TRABAJO SUCIO (Dirty work)

Dir. David Pagán Mariñez | Dominican Republic | Comedy | 2018 | 87 min
Cast / Intérpretes: Frank Perozo, Cheddy García, Nashla Bogaert, Kenny Grullón,, El Mayor, Pio la Distingancia, Killadamente
Cuando los empleados de la mansión del diputado Pérez descubren un pasadizo secreto con varios millones de pesos, deciden cobrar venganza de todos los atropellos y humillaciones de la familia y quedarse con el dinero… Y luego buscar más.
Employees of a mansion, tired of humiliation and mistreatment, discover a hidden pile of money. Driven by revenge and greed, they decide to take it - then look for more.
Director / Director:
David Pagán
Country / País:
Dominican Republic
Producer / Productor:
José R. «Pascal» Alama
Screenwriter / Guión:
José R. «Pascal» Alama
Director of Photography / Director de Fotografía:
Juan Carlos Gómez
Editor / Editor:
José Delio Ares
Genre / Género:
Comedy
Cast / Intérpretes:
Cheddy García, Pio La Distingancia, Killadamente, El Mayor Clásico, Nashla Bogaert, Frank Perozo, Yasser Michelén, entre otros.
Language / Idioma:
Spanish with English subtitles
Year / Año:
2018
Running Time / Duración:
87''