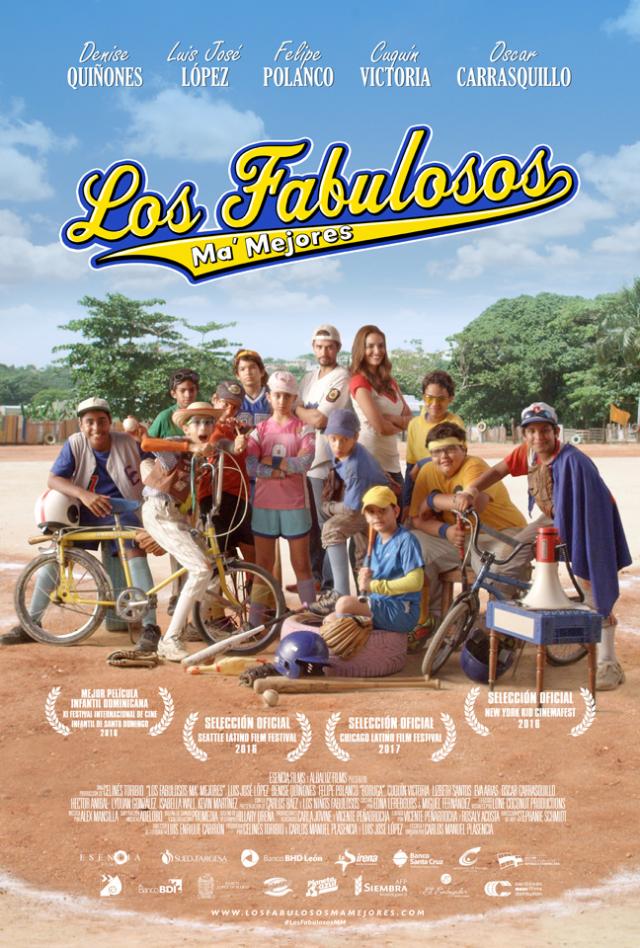 LOS FABULOSOS MA' MEJORES
The Dominican Film Festival in NYC
| | |
| --- | --- |
| When: | Wednesday, July 24, 2019 7:00pm |
| Where: | Alianza Dominicana Cultural Center 2ND FL, 530 West 166th Street, New York, NY 10032 |
| What: | Movie |
LOS FABULOSOS MA' MEJORES (The Fabulous at theirs Best)
Carlos Manuel Plasencia | Dominican Republic, | Comedy, Family | 2018 | 90' | Spanish with English subtitles
Kids' baseball coach Chelo Rosario is in a slump: he has no money, no job and his baseball team is spectacularly bad. But when he hears a public service announcement on the radio for the first National Kid's Baseball Tournament, he recruits Joanna (Denise Quiñones, Miss Universe 2001), the beautiful mother of one of his team's players, to help him get his team in shape. In the grand tradition of such family-friendly sports comedies as "The Bad News Bears," "Los Fabulosos Ma' Mejores" will delight audiences of all ages with the travails and triumphs of this underdog team.
Director / Director: Carlos Manuel Plasencia
Country / País: Dominican Republic
Producer / Productor: Celine Toribio, Carlos Manuel Plasencia, Luis José López
Screenwriter / Guión: Carlos Manuel Plasencia
Director of Photography / Director de Fotografía: Luis Enrique Carrión
Editor / Editor: Rosaly Acosta, Vicente Peñarrocha
Genre / Genero: Comedy, Family
Cast / Intérpretes: Kelvin Martinez
Language / Idioma: Spanish with English Subtitles
Year / Año: 2018
Running Time / Duración: 90 min.
Director Biography:
Carlos Manuel Plasencia is an award winning independent filmmaker, writer/director, producer and photographer. Born in the Dominican Republic, he began drawing and making his own video experiments at a very early age. In the late 90s he began his studies in film and media studies in Queens College (New York) where he also began to learn about photography and graphic design. In 2001 he began to write, and later, direct and produce (2003) his first short independent film in the Dominican Republic titled "La Cortina del Palacio" which was nominated for best film in the 2005 Cassandra Awards. After working as a Production Coordinator in "Pinchos y Rolos" (Short, 2008) and in "María Montez: The Movie" (2014) as co-producer, he wrote, directed and co-produced "Los Fabulosos Ma' Mejores", a kid's baseball film which was released in dominican theaters during the Christmas season in 2015 and won best film at the XI Kid's International Film Festival of Santo Domingo (2016).