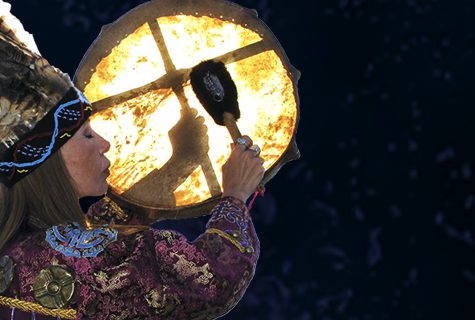 Shamanic Circle with Tuvan Shamaness ChokBar
| | |
| --- | --- |
| When: | Saturday, June 1, 2019 4:00pm |
| Where: | United Palace, 4140 Broadway, New York, NY 10033 |
Since ancient times, indigenous cultures have understood the importance of living in balance and harmony with the earth and cosmos. Because of this, shamanic living has been a source of empowerment, healing and fulfillment for a millennium.
Now, Hereditary Tuvan Shamaness ChokBar will bring ancient wisdom, practices, and rituals to the community in an intimate setting.
This exploration of the ethereal world and subtle realities will introduce you to spirit guides, ancestors, and power animals and awaken the interconnectivity that supports our healing, transformation, and life purpose. Shamanic work has been known to remove deeply rooted fears, attachments and unhealthy patterns that keep you from reaching your highest potential and finding personal fulfillment. Shamans have utilized the power and perfection of nature to facilitate healings for centuries.
In our monthly circle, you will journey to alternate esoteric realms through drumming, rattling, meditation and movement to remove obstacles, merge with spirit, and connect to the core of your being.
Join us to come into energetic alignment with the highest vibrations of the Universe and create positive change in your life and the world at large. The time for transformation is upon us.
Please bring:
Any type of a rattle (could be self made with a glass jar filled with rice, beans, or corn)
Drums, if you have them
Piece of fabric of your choice, and/or one or several ribbons
Power objects, such as stones/crystals, to charge on our altar and then take back home (Optional)
Flower(s) (Optional)
Register early, space is limited - $20.00
Enter the United Palace through the stage door on 176th Street - The Shamanic Circle is on the 7th Floor