SOLD OUT- GRAN FIESTA DE FIN DE AÑO - NEW YEAR'S EVE | TODO INCLUIDO - EVENTO FAMILIAR | 12.31.22
ALL INCLUSIVE OPEN BAR, CENA, BAILE Y CONCIERTO
Saturday, December 31, 2022 8:30pm
Leonard's Palazzo
555 Northern Blvd, Great Neck, NY 11021
GRAN FIESTA DE FIN DE AÑO 2023
CON "LA SONORA DINAMITA" EN CONCIERTO
DESPIDE EL 2022 EN FAMILIA
VEA EN DIRECTO LA CAIDA DE LA BOLA DE TIMES SQUARE
FIESTA FIN DE AÑO | FIESTA DE AÑO NUEVO | CENA DE SAN SILVESTRE | NEW YEAR'S EVE CELEBRATION | NYE PARTY
CHEERS TO THE NEW YEAR!
TODO INCLUIDO EN UN MISMO PRECIO -- ALL INCLUSIVE
- OPEN BAR TODA LA NOCHE
- CENA PLATO SERVIDO ( 4 Course dinner with an hors d'oeuvre, appetizer, main course, and dessert)
- CHAMPAGNE TOAST AT 12 A.M ; PARTY FAVORS
- CONCIERTO EN VIVO LA SONORA DINAMITA; BAILE; DJ MUSICA DECEMBRINA Y DE FIN DE AÑO POR DJ NANCHITO
- FREE PARKING
- LUGAR: LEONARD'S PALAZZO
- FECHA: Sabado, 31 de Diciembre 2022.
EY - HORA: 8:30 PM A 1:30 AM
- DIRECCION: 555 Northern Boulevard Great Neck NY 11021
- DRESS: FORMAL - BLACK TIE OPTIONAL
- EVENTO FAMILIAR PARA TODAS LAS EDADES NIÑOS MENORES DE 12 AÑOS $100 - PARA RESERVAR ESTE BOLETO FAVOR LLAMAR AL 718-255-1787
VALOR TICKETS TODO INCLUIDO: PRECIOS VALIDOS HASTA EL 25 DE DICIEMBRE, 2022
What's app al (718) 255-1787
1. $100 Niños menores de 12 años cualquier seccion.
2. $175 GOLD
3 $199 PLATINUM

INFORMACION Y RESERVAS:
Tel: (718) 255-1787
Website: www.josecruzusa.com
Email:
Facebook.com JOSECRUZPRODUCTIONS
Instagram.com JOSECRUZPRODUCTIONS
LUGAR:
LEONARD'S PALAZZO
555 Northern Blvd
Great Neck, NY 11021
Hotels near Leonard's Palazzo Hotel near Leonard's Palazzo
Driving Directions: from Jackson Heights,Queens, NY to Leonard's Palazzo
NOTA: TODO INCLUIDO EN EL PRECIO DEL BOLETO O "ALL INCLUSIVE" INCLUYE:
BARRA ABIERTA TODA LA NOCHE
CENA DE 4 PLATOS (an hors d'oeuvre, appetizer, main course, and dessert)
BRINDIS CON CHAMPAÑA
CONCIERTO EN VIVO CON LA SONORA DINAMITA
PARQUEADERO GRATIS
PROPINAS
IMPUESTOS
New Year's Eve - NYE - #party #celebration #event # bash # gala #disco #ball # fireworks # countdown # champagne #toast #dinner #dance #concert #fiesta # celebracion # evento #bola #fuegos #artificiales #champana #brindis #queens #long island #all inclusive #all included #todo incluido
___________________________________________________________________________________________________
TAQUILLA:
Los boletos se pueden comprar directamente en la taquilla del sitio cuando las puertas se abran el día del evento.
Los precios pueden variar. Se acepta Efectivo, Zelle y/o Tarjeta de Crédito con identificación.

POLÍTICA DE REEMBOLSO:
Todas las ventas son finales - Sin reembolsos. Antes de comprar boletos, revise cuidadosamente la fecha del evento, el artista,
la ubicación del lugar, la selección de asientos, el precio, el código de vestimenta del lugar y la política de la puerta.

MAPAS DE RESERVA DE ASIENTOS:
tenga en cuenta que los mapas son representativos del diseño de un lugar; sin embargo, están sujetos a cambios
en cualquier momento y no se permiten reembolsos si se actualiza el mapa de asientos, si se agregan asientos/filas adicionales
o si los asientos cambian como resultado de un cambio de lugar después de la compra.
BOX OFFICE:
Tickets can be purchased directly at the site box office when doors open on the day of the event. Prices may vary.
Cash, Zelle, Credit Card with identification accepted

REFUND POLICY:
*All Sales Final - No Refunds. Before purchasing tickets, carefully review the event date, artist, venue location,
seat selection, price, venue's dress code and door policy.

SEATING CHART MAPS:
Please note that seating maps are representative of a venue's layout; however, they are subject to change
at any time, and refunds are not allowed if the seating map is updated, if additional seats / rows are added, or if seats
change as a result of a venue change after purchase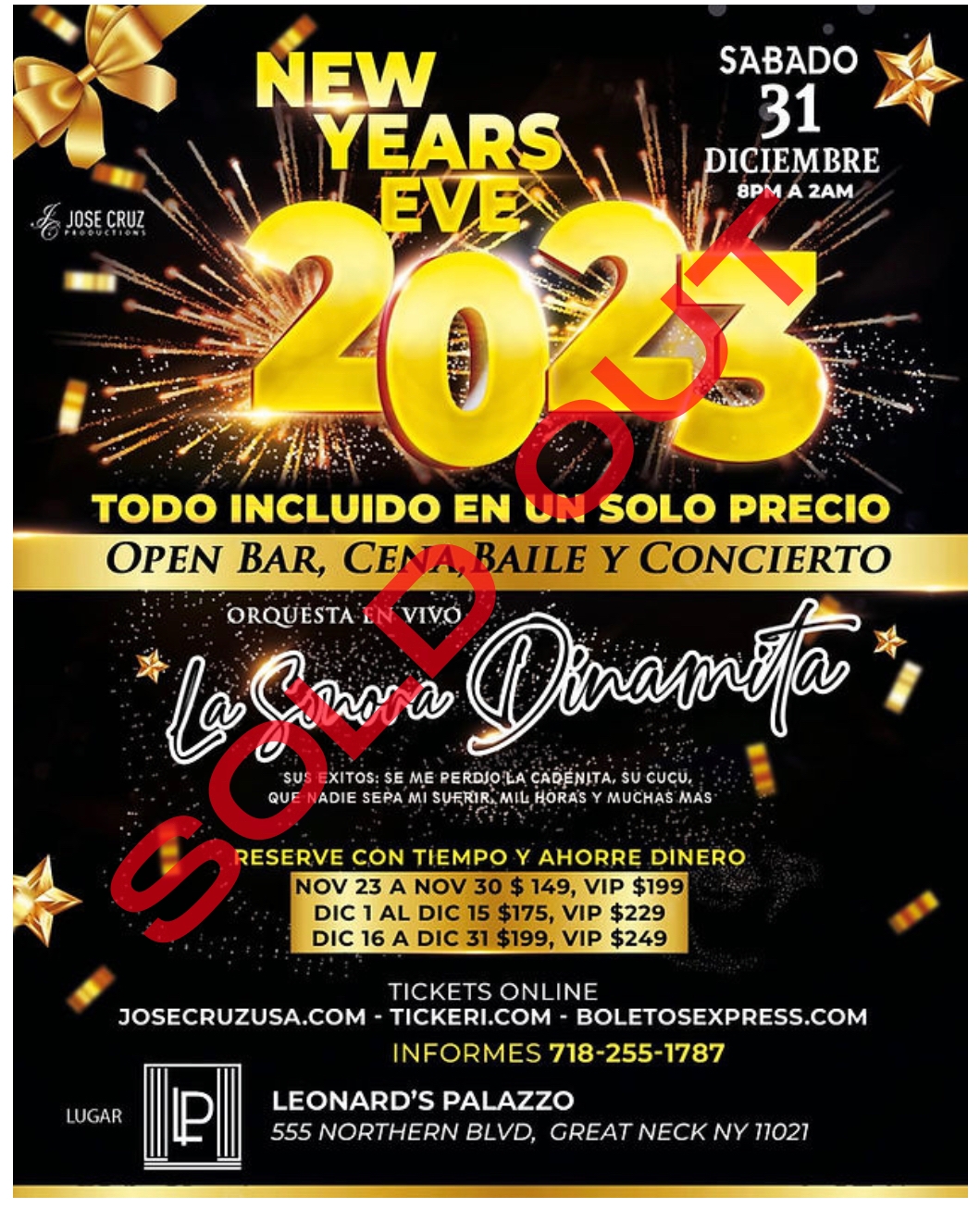 Join our Exclusive VIP List & Text Message Alerts
Receive free event alerts and get discounts on your favorite events.