Jesús Adrian Romero
Presale On Now
Friday, December 17, 2021
Doors: 7:00pm, Show: 8:30pm
Ritz Theatre
1148 E Jersey St Elizabeth NJ 07021

El cantautor y compositor Mexicano Jesús Adrián Romero vuelve a los escenarios, presentándose el Viernes, 17 de Diciembre, en el famoso Ritz Theater de Elizabeth, New Jersey. Oriundo de Hermosillo, Sonora, Romero se ha consagrado como un ícono de la balada con mas de 30 años de carrera, recibiendo 3 nominaciones al Latin Grammy y fundando su propio sello discográfico Vástago Producciones en el 2007. Romero hace su debut en 1990 con el disco Renuevo Espiritual, donde su esposa Pecos Romero lo acompaña en la producción y juntos lanzan su primer éxito, "Santo." A lo largo de su carrera Romero ha sido inspirado por su fé Cristiana, aunque su extenso catálogo y enormes éxitos como "Sumérgeme" y "Mágicas Princesas" han alcanzado la conciencia colectiva con mensajes universales de amor, familia y comunidad. Jesús Adrián Romero ha lanzado 7 discos de estudio –el más reciente siendo Origen y Esencia (2019)– y la misma cantidad de producciones en vivo, concretando su estatus como uno de los más queridos baladistas de su generación y prometiendo una noche inolvidable llena de música y júbilo.
Mexican singer-songwriter Jesús Adrián Romero is back on tour and performing at the famed Ritz Theater in Elizabeth, New Jersey on Friday, December 17. Hailing from Hermosillo, Sonora, Romero has remained a bastion of soaring, heartfelt ballads for over 30 years, garnering 3 Latin Grammy nominations and founding his own label Vástago Producciones in 2007. Romero first hit the scene with 1990s Renuevo Espiritual LP, which he produced alongside his wife Pecos Romero and yielded early hit, "Santo." While inspired by his Christian faith, his expansive catalogue and subsequent hits such as "Sumérgeme" and "Mágicas Princesas" have transcended into the mainstream with universal messages of love, family and community. Jesús Adrián Romero has released 7 studio albums –his latest, 2019's Origen y Esencia– and just as many live LPs, cementing his status as one of the most beloved storytellers of our time and promising an unforgettable night of joy and music.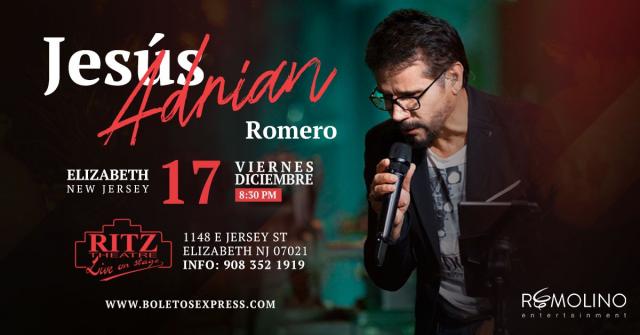 Join our Exclusive VIP List & Text Message Alerts
Receive free event alerts and get discounts on your favorite events.