GUAYACAN ORQUESTA SABADO 4 DE DIC, THE EXCELSIOR SADDLE BROOK NJ JCP
FERIA DE CALI
Saturday, December 4, 2021
Doors: 8:00pm, Show: 12:00pm
THE EXCELSIOR
190 US-46, SADDLE BROOK,NJ 07663
NEW JERSEY !! Nos vemos este sabado 4 de Diciembre del 2021 en THE EXCELSIOR, con GUAYACAN ORQUESTA en concierto cantando todos sus exitos, ven y disfruta con tus amigos una noche inolvidable.
SI COMPRA BOLETOS VIP DEBE LLAMAR AL 718-2551787, 201-6581477, 551-5748700, 908-6448252 PARA ASIGNACION DE MESA.
CONSUMO MINIMO REQUERIDO PARA ASIGNAR MESA EN VIP, DE UNA BOTELLA DE LICOR
Talento:
GUAYACAN ORQUESTA
Fecha:
Sabado 4 de Diciembre 2021
Puertas:
08:00PM
Lugar:
THE EXCELSIOR
190 US-46 SADDLE BROOK NJ 07663
Informacion:
Evento para mayores de 21 años
718 -2551787 - 201-6581477, 551-5748700, 908-6448252
Vestir de buen gusto
CONSUMO MINIMO REQUERIDO DE UNA BOTELLA DE LICOR EN MESAS VIP.
CONTACTO PROMOTOR: 718-255-1787 E MAIL:
WWW.JOSECRUZUSA.COM
***** NO REFUNDS * NO EXCHANGES *****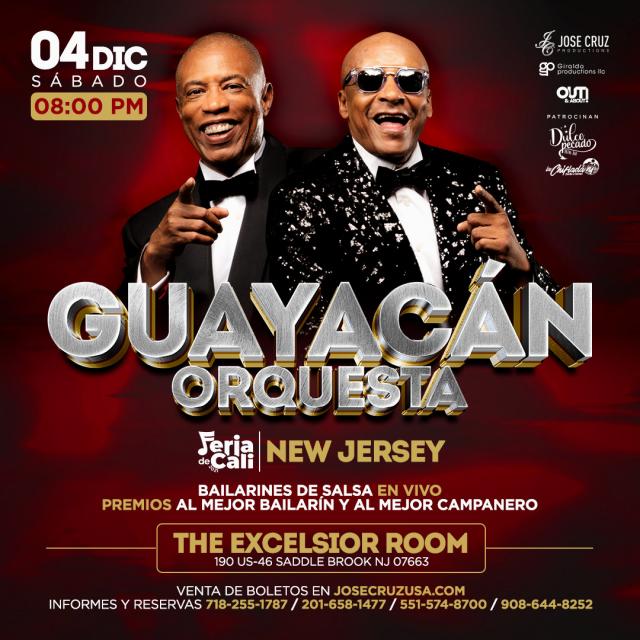 Join our Exclusive VIP List & Text Message Alerts
Receive free event alerts and get discounts on your favorite events.