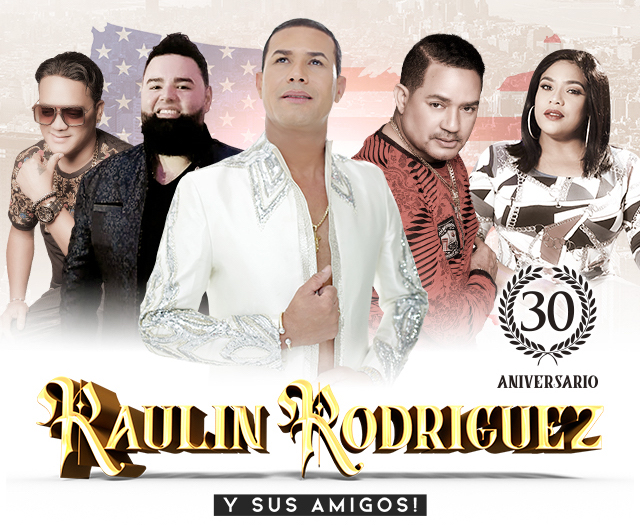 RAULIN RODRIGUEZ
30th Year Anniversary!
| | |
| --- | --- |
| When: | Saturday, October 19, 2019 8:00pm |
| Where: | United Palace, 4140 Broadway, New York, NY 10033 |
| What: | Concierto |

DOORS OPEN AT 6:30 PM
***** NO REFUNDS * NO EXCHANGES *****


Legendary Dominican bachata artist, Raulín Rodríguez, and affluent artist representative, Pedro Zamora, president of Zamora Entertainment, Inc., have signed a multimillion-dollar contract, granting Zamora rights to the much anticipated 30 Year Anniversary Tour, which celebrates Raulín's 30 years of artistry. Through his representatives, Rodríguez Productions, LLC, his manager, Romel Rodríguez, and his attorney, Hector "Rey" DeJesus, Raulín secured and executed said agreement in the presence of prominent radio and television media representatives.
Raulín stated that he feels motivated during this stage of his career and promises to satisfy the thirst of the bachata public through spectacles filled with surprises and guest appearances from his many legendary industry colleagues from various genres of Latin music. Pedro Zamora recognizes the importance of this moment for the bachata world and promises top-tier promotions and production as part of the celebration of one of the most important figures in the history of bachata.
Raulín recently returned from the 2019 Latin Billboards in Las Vegas, where he performed his latest collaboration with global superstar Romeo Santos, La Demanda, to an overwhelming reception by the audience, many of whom are modern day global artists who relished in witnessing two of their icons performing together. Said collaboration is currently rising in the charts in both the Dominican Republic and the United States, as are Raulín's current solo singles Corazon con Candado and Como Lo Niego from his latest album titled Hablamos en la Cama, which was recorded alongside Santo Domingo's Symphonic Orchestra, directed by Amaury Sánchez.
A pioneer in bachata, Raulín is recognized as one of the forces behind the genre's international reach in the mid-90s-and-early-2000s and continues to stand out as a modern legend, releasing music that is beloved by all age groups, with one of the most impressive portfolios of the genre with countless hits including: Nereyda, Una Mujer Como Tú, Medicina de Amor, El Amor Da Vida, and Me La Pusieron Difícil.