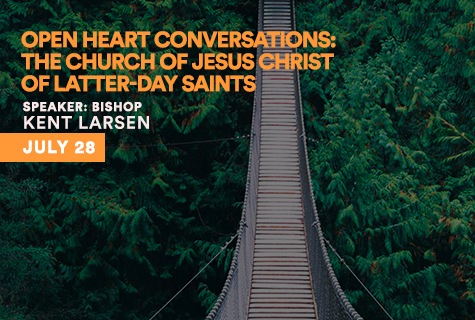 Sunday Service: The Church of Jesus Christ of Latter-day Saints
| | |
| --- | --- |
| When: | Sunday, July 28, 2019 3:00pm |
| Where: | United Palace, 4140 Broadway, New York, NY 10033 |
The United Palace of Spiritual Arts (UPSA) is committed to building interfaith dialogue among the world's great enduring wisdom traditions. On Sunday, July 28, UPSA's Open Heart Conversation (OHC) will focus on The Church of Jesus Christ of Latter-day Saints (LDS) and understanding the revelations given to prophet and church founder Joseph Smith. Smith translated an ancient text "by the gift and power of God" to produce the Book of Mormon, LDS' sacred text.
This Open Heart Conversation, hosted by Rev. Dr. Jose Roman, welcomes Bishop Kent Larsen of the New York Stake of the LDS. Kent Larsen is a local leader in the Church of Jesus Christ of Latter-day Saints (LDS Church) who recently completed a five-year term as Bishop of an Upper Manhattan congregation. During his term as Bishop, he participated in the Upper Manhattan interfaith Leaders Coalition and developed an interest in interfaith work.
OHCs occur at the United Palace of Spiritual Arts located at 4140 Broadway in Washington Heights. Anyone who is interested in learning more about The Church of Jesus Christ of Latter-day Saints is encouraged to join this heart-felt dialogue, which begins at 3:00 p.m.
Bishop Larsen is an amateur scholar of Mormon history and culture. He has written chapters in three published volumes and has written a substantial body of work on several blogs, principally on timesandseasons.org and motleyvision.org.
He was born to a family that has been members of the LDS Church almost since its founding in the mid-1800's. He served a mission for the Church in Portugal before earning bachelor's degrees in Portuguese and Accounting. Since moving to New York 31 years ago, he has obtained an MBA and built a career as an accountant, working principally in the book publishing industry. He and his wife have raised their 3 children in Upper Manhattan.