TONY SUCCAR
Por Primera Vez En Concierto • Invitada Especial: La India
Saturday, November 6, 2021 7:00pm
Ritz Theatre
1148 E Jersey St Elizabeth NJ 07021
Latin Grammy-winning percussionist and composer Tony Succar performs in the tri-state area for the
very first time with a landmark show at Elizabeth, New Jersey's iconic Ritz Theater on Saturday,
November 6. The revered Peruvian-American multi-instrumentalist known for his fusions of salsa,
Latin jazz and cutting edge electronic techniques is a product of Miami's fertile musical universe,
collaborating with legends like Tito Nieves, La India and Jon Secada along the way. Coming off the
heels of his award-winning 2019 album Más de Mí and hits like salsa heartbreaker "Uno de los Dos"
with Obie Bermudez and funk-flavored "Me Enamoro Más de Tí" with Jean Rodríguez, Succar's return
to the road is stacked with fresh gems that will spark a thousand dance offs. 2021 singles "Worst Way"
and "Tu Mejor Equivación" find Succar exploring bold new salsa territory alongside rising stars YX
and Kenyi, incorporating elements of R&B and synthpop that promise to keep his creative fires burning
brightly into the future.

Tony Succar, el compositor y percusionista ganador del Latin Grammy, se presenta por primera vez en
el noreste estadounidense con un monumental concierto en el icónico Ritz Theater de Elizabeth, New
Jersey este 6 de Noviembre. El multi-instrumentista Peruano-Americano reconocido por emocionantes
fusiones de salsa, Latin jazz y nuevas técnicas electrónicas es producto del fértil ecosistema musical de
Miami, dónde ha colaborado con super estrellas como Tito Nieves, La India y Jon Secada. Volviendo a
los escenarios tras la triunfante acogida de su álbum Más de Mí (2019) y éxitos como "Uno de los Dos"
junto a Obie Bermudez y "Me Enamoro Más de Tí" con Jean Rodríguez, Succar debutará nuevos cortes
que prometen poner a bailar al público por horas. Sencillos recientes como "Worst Way" y "Tu Mejor
Equivocación" inauguran una nueva faceta creativa para Succar, quien junto a los poderosos YX y
Kenyi ha empezado a incorporar elementos del R&B y synthpop, presagiando un fresco y ambicioso
futuro para la salsa y el visionario compositor.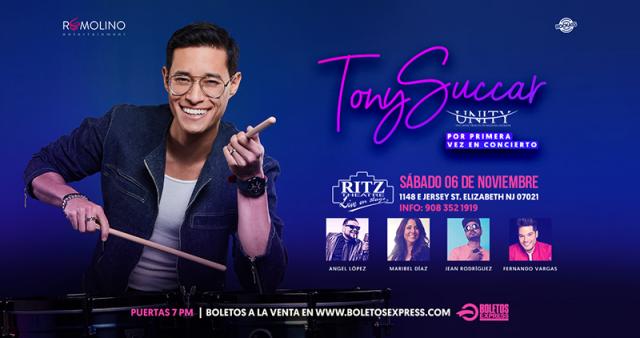 Join our Exclusive VIP List & Text Message Alerts
Receive free event alerts and get discounts on your favorite events.