PUERTO RICAN DAY Latin Boat Party NYC
Saturday, June 10, 2023 10:00pm
353 West New York
NY 10014
Celebrate with MADE IN PUERTO RICO! Join us for an unforgettable night of dancing and stunning views of the Manhattan skyline and the Statue of Liberty.
Our event features top New York DJs, fully stocked bar, and the opportunity to showcase your best dance moves. Don't miss the chance to sail around the Statue and indulge in delicious drinks, available for order at the bar or straight to your table. Book now for an incredible experience you won't forget!
Your Cruise Experience Includes:
Scenic 3-hour cruise of the NYC harbor;
Captivating views of the Manhattan skyline including the Statue of Liberty, Brooklyn Bridge, Ellis Island, the Freedom Tower and more;
Waitress Service Available ; Order Drinks directly to your table.
VIP Bottle Service & Sections Available - Call/text Allan (646)-263-4593 and/or email for the Bottle Services Flyer & Packages.
Open-Air deck and a climate-controlled cabins.
3 levels of music (Outdoor Floor of Music ; Two Indoor Floors of Music).
Live DJs playing all styles of Latin Music, Pop, Top 40, Oldies & more.
Rain? No problem, there are two large indoor dance floors and indoor sitting areas!
Food Available for Purchase.
The purchase of the GROUP VIP Champagne Dinner Tickets guarantees reserved seating (Groups of 10 or more).
Great for Birthday Celebrations / bachelorette / bachelor / anniversary / graduations & more (Balloons & Cakes permitted - no other outside food allowed). Birthday and Special occasion flyers available as add-ons in the ticket section!
Dedicated Party Photography Services Available (more details in the add-ons ticket section).
VIP Ticket Includes Express Line Entry.
Free Street Parking Available around the Pier (it is relatively easy to find parking). Pier 15 has parking garages for an average of $40.00 per vehicle. Pier 40 also serves as a large parking complex with an average rate of $40.00 per vehicle.
The dress code is Dress to Impress: No hats | No Tims/boots | No joggers | No sweats | No basketball shorts.
Contact us for more information & special reservations: or call / text Allan (646) 263 -4593
Dinner Menu Includes:
- "Wendy Style" Fish n' Chips
[ Fried Fish, Oven Roasted Potatoes, Sauteed String Beans & Baby Carrots ]
- Wendy's Famous Jerk Chicken
[ Jamaican Jerk Chicken, Pasta Salad, Fried Plantains, Rice & Beans ]
- Italian Stallion Baked Ziti
[ Baked Ziti, Oven Roasted Potatoes, Mixed Green Salad ]
- The Loaded Mediterranean Falafel Bowl
[ Authentic Palestinian Falafels, Sauteed String Beans & Baby Carrots, Rice & Beans, Mixed Green Salad ]
Mix & Match + add more to your plate (at no extra cost ????)! Buffet Style!
- Wild Wild West Buffalo Wings
- Blast to the Past Chicken Nuggets
- All American Mac n Cheese
- Deli Pasta Salad
- Empanadas (Beef, Chicken, & Cheese)
+ our Famous Crust Nation Pizza powered by Table 87
Event Information:

Location: PIER 40, INFINITY YACHT
Everything about the Hornblower Infinity is impressive. This isn't just a yacht, it's a first-class venue, with the added bonus of being on the water. And you can experience incredible views from all four decks.
Boarding: 9.30 PM
Departure: 10:30 PM
Return: 1.30 AM
Ends: 2 AM
Rain or Shine
21 & over with proper ID (no pictures of ID accepted)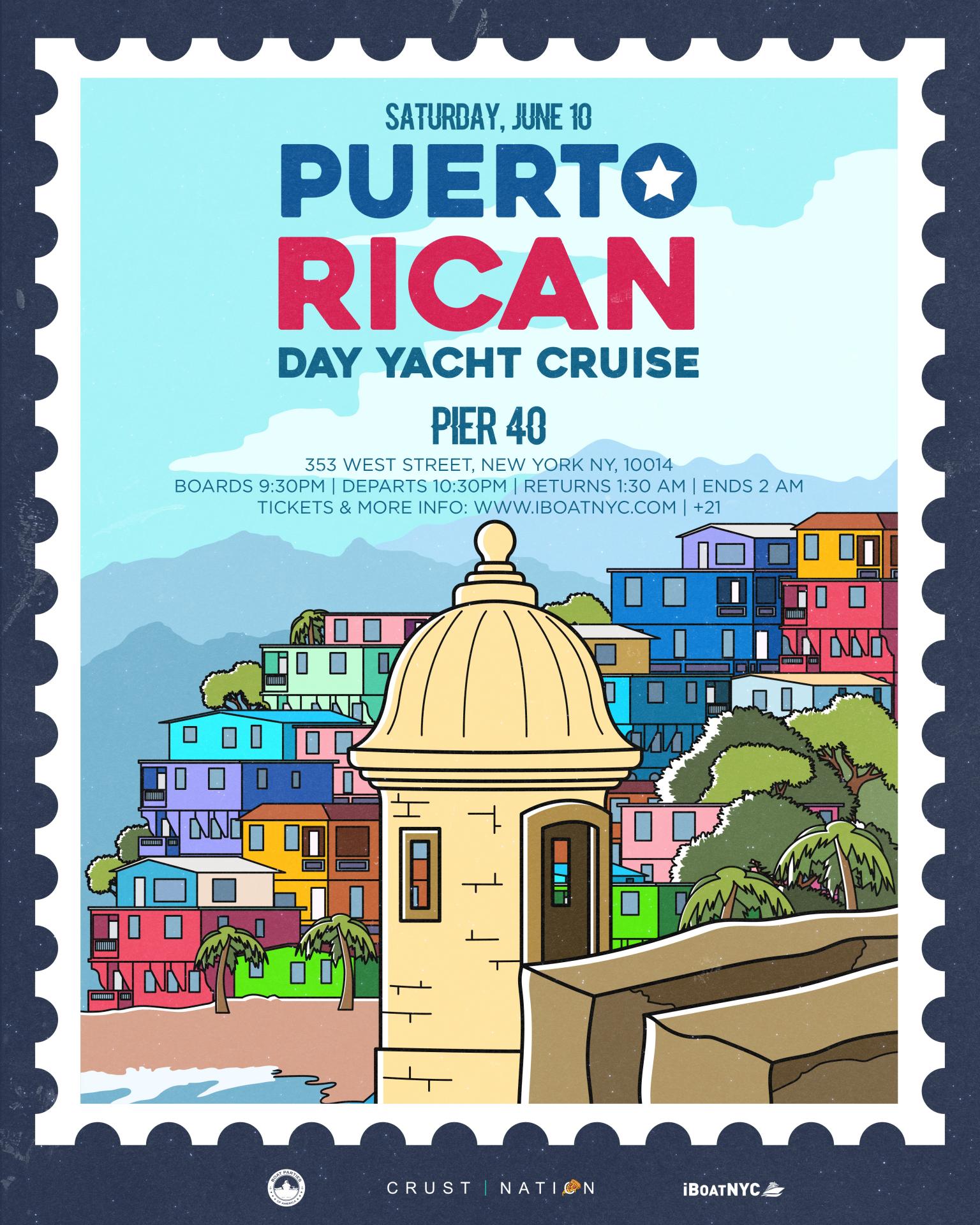 Join our Exclusive VIP List & Text Message Alerts
Receive free event alerts and get discounts on your favorite events.